10 Must-Visit Attractions In Da Nang
Danang is a laidback coastal city in Vietnam, located in the Eastern Sea coast, famous for stunning beaches, rolling mountain and religious relics. Da Nang now is a famous destination for travelers on their vacation. Here is 10 must-visit attractions in Danang.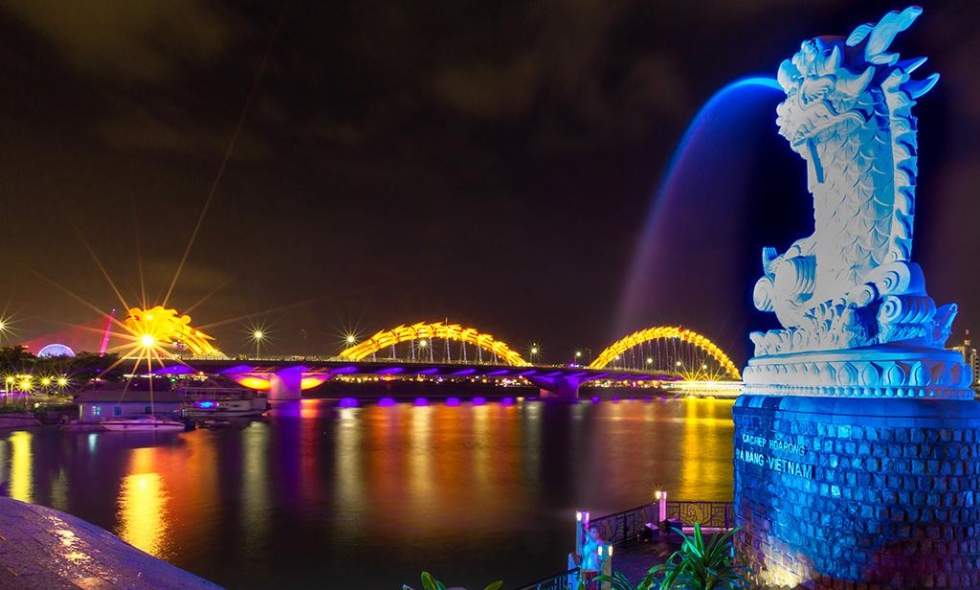 1. Bana Hills
Located in Hoa Ninh Commune, Hoa Vang District, this is a place of great ecological value and is a natural reserve area of Vietnam. This complex also features Buddhist statues and temples built for entertainment only, which makes for a quirky combination of old East and West. Come to Bana, you can also experience 4 seasons climate in a day which is extremely interesting and explore Fantasy Park, home to all sorts of entertainment games for all ages.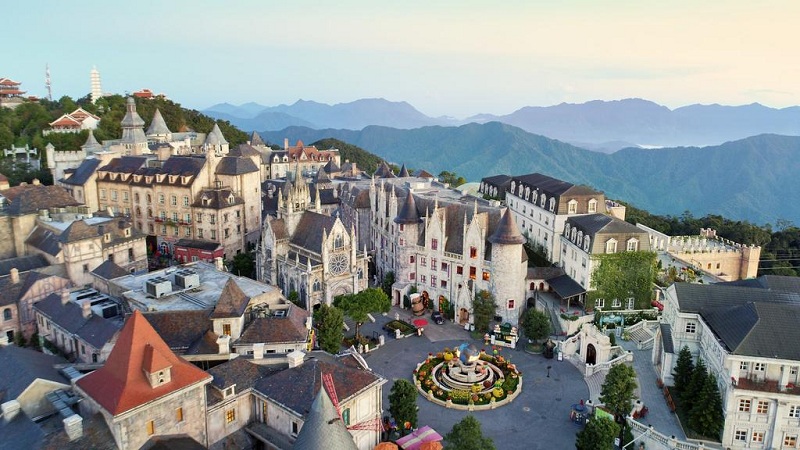 2. The Golden Hand Bridge
The Golden Bridge is a Vietnam's newly debuted construction since the middle of 2018. The bridge offers breathtaking panoramic views of the valley below as well as the rolling Truong Son mountains. This architectural marvel is suspended nearly 4,600 feet above sea level and was built to entice more tourists into Danang's Ba Na Hills.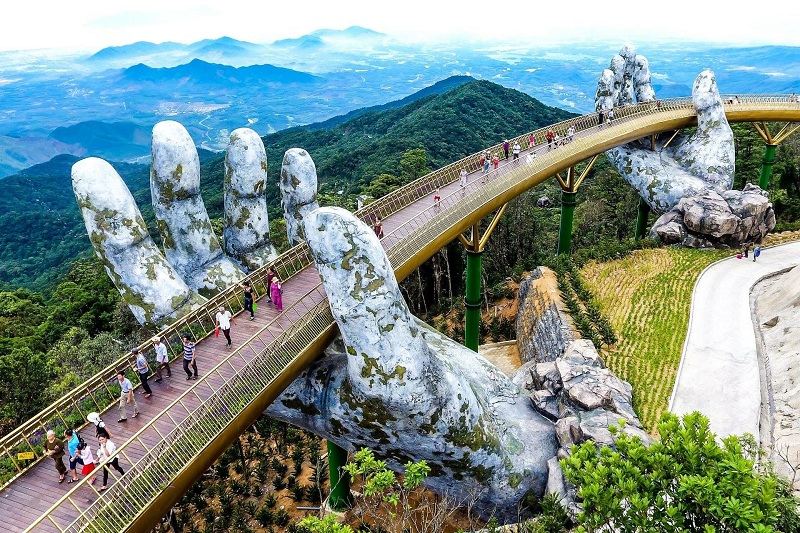 3. My Khe Beach
This is the most popular beach in Danang and is one of the cleanest and most beautiful. My Khe beach has also been voted by Forbes magazine as one of the 6 most attractive beaches on the planet. Coming here, you will be involved in sports activities such as scuba diving, windsurfing, soccer,... The best time to visit My Khe Beach is in the morning or early afternoon to beat the crowds that pour in around 4pm.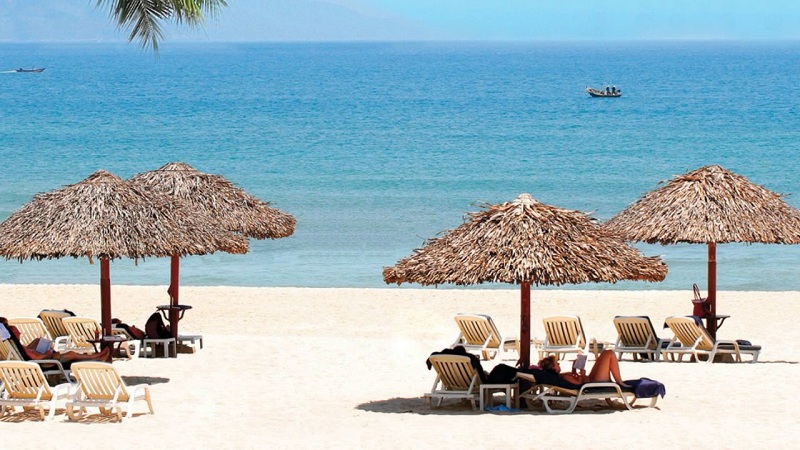 4. Dragon Bridge
One of Danang's most iconic symbols, this intricately designed bridge depicts a fire-breathing dragon heading toward the East Sea. When the night falls, you will be surprised by the beauty of the bridge spanning the Han River. One important information you should know is that the Dragon Bridge will spit fire and water at 9pm every Saturday, Sunday every week and in major holidays or special events.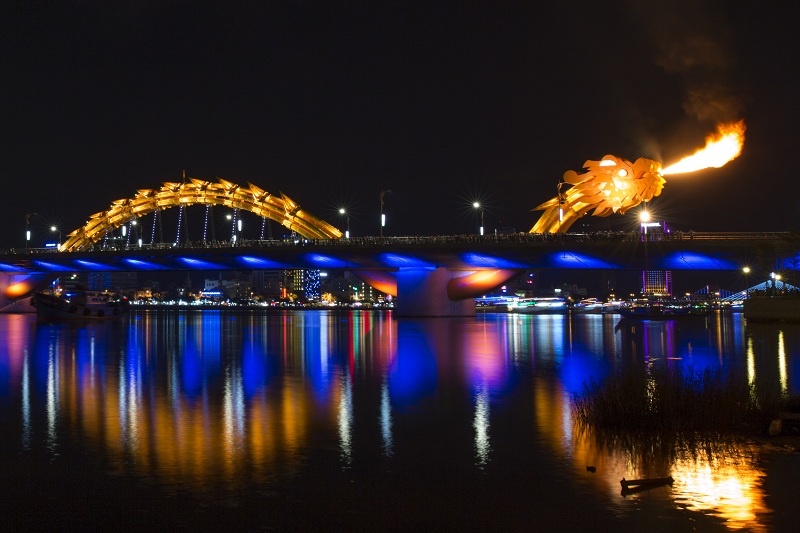 5. Son Tra Peninsula
Son Tra Peninsula is one of the famous destinations in Da Nang. Located 8km from the city center, Son Tra Peninsula is a pristine forest with a cool climate every year. With beautiful natural landscapes and destinations that promise surprises and interesting things, Son Tra Peninsula is a must-visit attractions in Da Nang.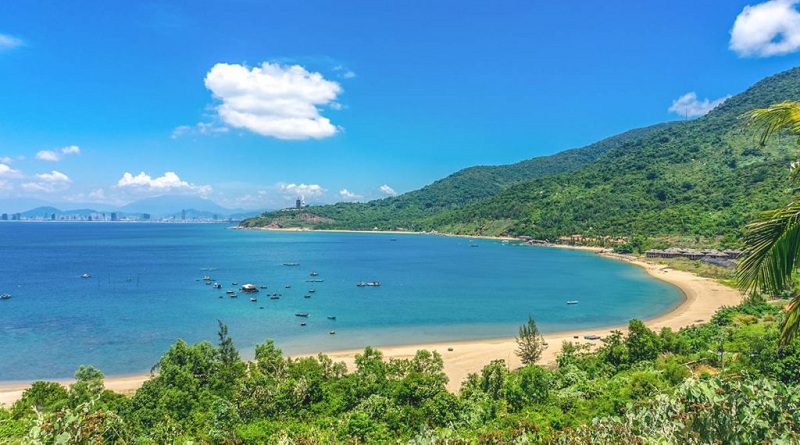 6. Museum of Cham Sculpture
The Cham Museum in Da Nang is the largest collection of Cham sculpture and artwork in the world, this museum was built in 1915 according to the motifs of ancient Cham architecture. Whenever visiting the museum, you still perceive an individual atmosphere particular to this place, the reverie of reminiscences.
7. Linh Ung Pagoda
Da Nang currently owns 3 pagodas named Linh Ung. There is a coincidence that all three temples are located in the prime position of Da Nang City, forming a holy triangle in Da Nang travel. They are Linh Ung Non Nuoc Pagoda - located in Mount Thuy Son or Water Mountain, one of 5 mounts in Marble Mountains; Linh Ung Ba Na - located in the towering mountain of the tourist site dubbing "Dalat of the Central"; and Linh Ung Son Tra - located halfway up the mountain of Son Tra Peninsula.
8. My Son Sanctuary
My Son Sanctuary is a cluster of abandoned Hindu temples constructed between the 4th and 14th centuries by the Kingdom of Champa. Partially ruined and recognised as a world heritage site since 1999, My Son is located in the Quang Nam Province – 70 kilometres southwest of Da Nang. It is also 30 kilometers west of Tra Kieu, the ancient capital of the Cham folk.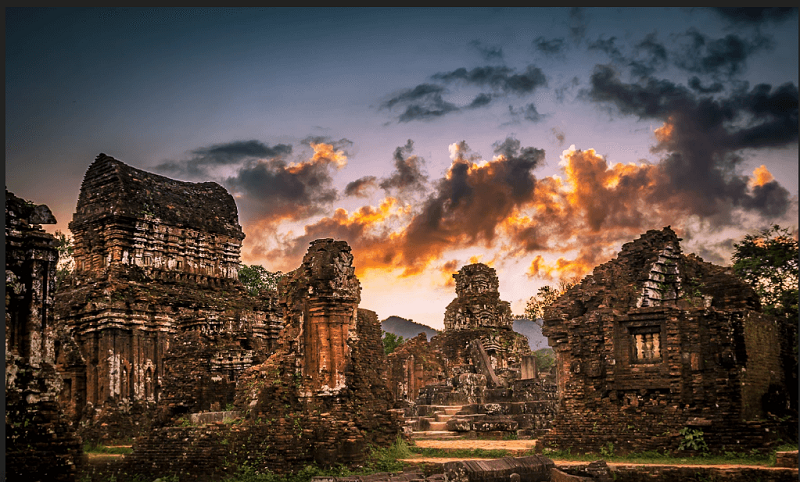 9. Marble Mountains
Marble Mountains, located just to the south of Da Nang are a cluster of five hills made of marble and limestone. Marble Mountains are highly revered for the Buddhist sanctuaries and other ancient sites found here. Located just off the coastal road, each mountain is said to be dedicated to the 5 natural elements: Kim (metal), Thuy (water), Moc (wood), Hoa (fire) and Tho (earth).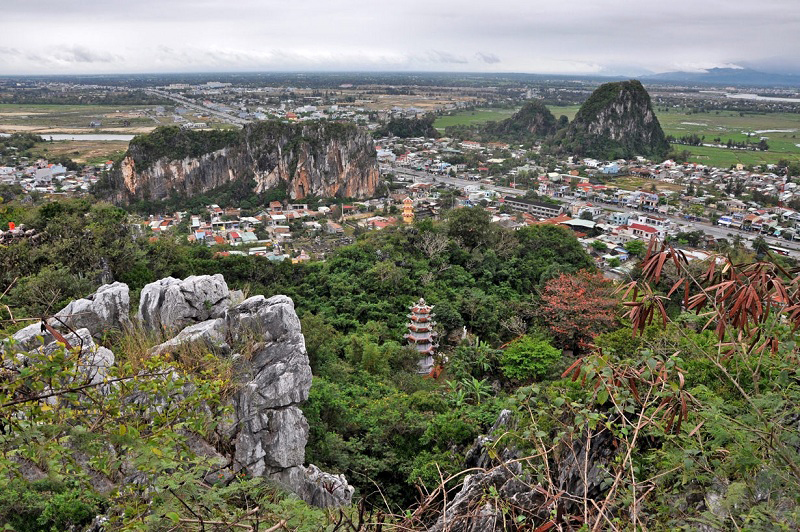 10. Han Market – Con Market
Situated right in the center, Con Market and Han Market have attracted more and more tourists. The markets are very diverse with various kinds of goods such as shoes, clothing, fabrics, handbags, souvenirs and gifts. The prices are relatively cheap because they are all wholesale markets.
© GrandViet Tour., Co., Ltd. - The Top Inbound Tour Operator in Vietnam organized the biggest number of visitors from Southeast Asia in 2018.
© GrandViet Tour Co., Ltd. - International Tour Operator Licence 01-217/TCDL-GPLHQT.
Copyright © 2006 - 2020. All Rights Reserved.